Let us guide you as you awaken your creative pathways through
playful

and

meaningful

art making.

Let us tell you about Stepping Stones Expressive Arts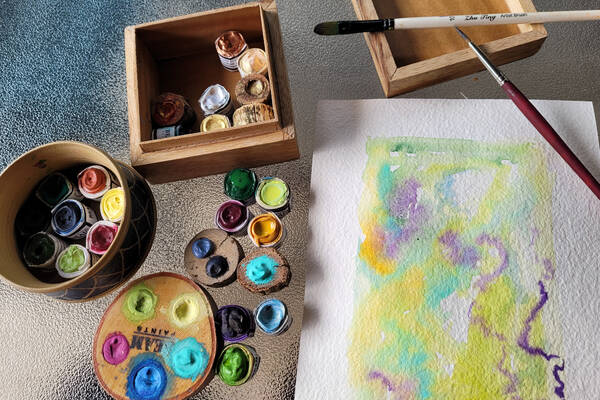 About Us
Rachel Tanner and Wendy Newbery have extensive experience working in a range of social service settings. They use art and creativity as a focus - both personally and professionally. They provide unique and playful art-making experiences that focus on personal learning and growth in a safe and welcoming setting. All are welcome!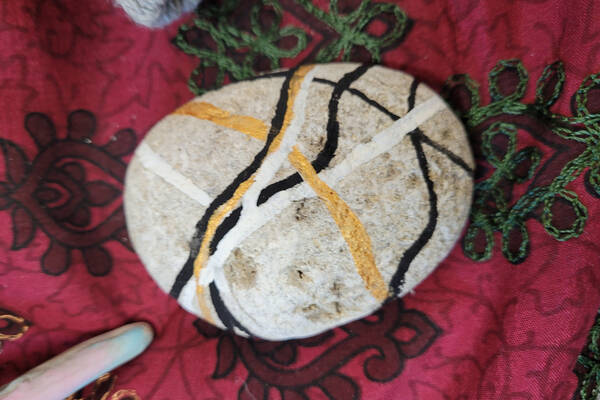 What We Do
We can work with you in a number of ways. Depending on your needs, we can suggest one-on-one sessions, workshops (including custom workshops), special topics, and our "Art Cart" (we bring our supplies to you).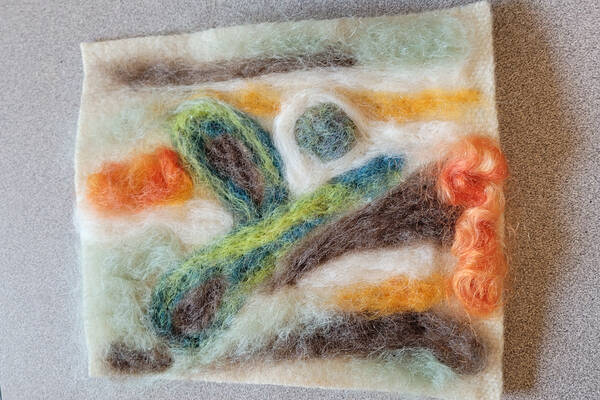 Our Current Schedule
Look at the workshops and sessions we have already scheduled. If you want something for an individual or for your group, please use the
Contact Us
form.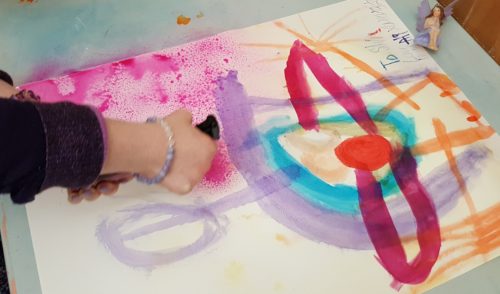 What is Expressive Arts?
Expressive Arts uses visual art, creative writing, movement, sound, and all other art modalities to further self awareness, personal growth, and learning.
We offer facilitated Expressive Arts experiences which although not therapy, may be considered therapeutic by participants. Expressing ourselves in creative ways allows us to have a new perspective on our day-to-day lives.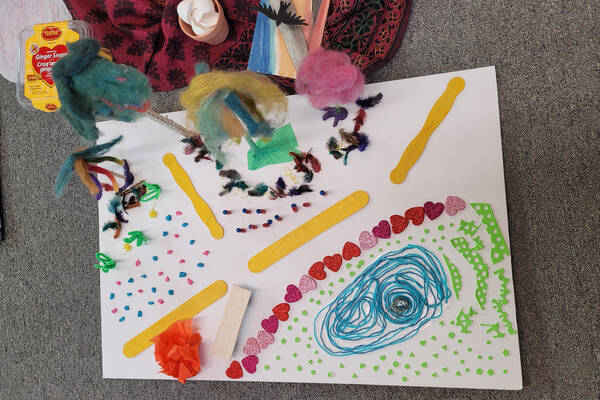 What happens in an Expressive Arts session?
Expressive Arts experiences are offered in individual sessions and in groups. Participants may use a combination of visual art, creative writing, movement, sound, nature play, to respond to an invitation to create. The focus is on the process of creating more than it is on the finished product. While the spirit of this art-making is light-hearted and fun, the learning that comes from expressing ourselves in new ways can lead to deeper personal insight.
Your guides for this experience support your journey without judgment or expectations. We want you to focus on the process of art making and not on the finished product.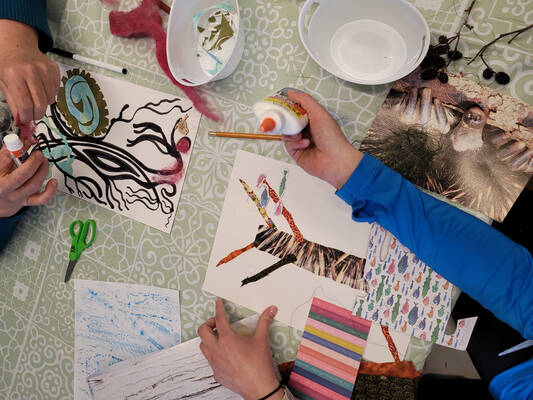 What should I expect from an Expressive Arts experience?
Participants in Expressive Arts play with many types of art-making to express their thoughts and feelings. They may use:
Visual art media such as paint, collage, inks, printmaking, clay, fibre and found objects

Movement

Written word, such as simple forms of poetry and prose

Rhythm and voice

Nature Play
Why would I want to do Expressive Arts?
We have often heard that people like the opportunity to make art without expectations about what they will produce or how it should look. The freedom and choice in the process allows you to explore and experiment. Each creation is celebrated for what it can offer the creator.
Above all, participants enjoy the opportunity to create something that allows them to see some aspect of their life in a new way. Those who feel "stuck" may recognize a shift in their perspective that can help them move forward. Those who face challenges may find new resilience as they learn from the process. Some participants feel that they reconnect with their true selves through the playful nature of Expressive Arts.
Thank you for creating a welcoming space and warm invitation to self-exploration and personal discovery through the Expressive Arts!
Connie
This Expressive Arts group has been replenishing and challenging, and I look forward to it each week.
Sandy